Live a Healthy and Happy Life and Do It Sustainably
Vegan foodie and lifestyle expert Tabitha Brown shares how to start living a more sustainable life.
This past year, people have been re-discovering what's really important to them. Being stuck inside away from others has forced us be more mindful of our lifestyle practices. For some, this has been a time to focus on a recommitment to fitness, and for others, building better eating habits. With so many resources to turn to for information on living a cleaner and healthier life, it can be hard to know where to turn; that's where Tabitha Brown comes in.
Every week, Brown shares videos on her
YouTube channel
that range from creative vegan recipes tutorials and inspiring mental health topics to videos encouraging you to get out and move. Not only is her upbeat humor, honesty and positive energy contagious, but she is heavily invested in her followers. She is also a breath of fresh air on your Instagram feed, and you can't help but be captivated by her. She genuinely cares about sharing content that can make their lives better.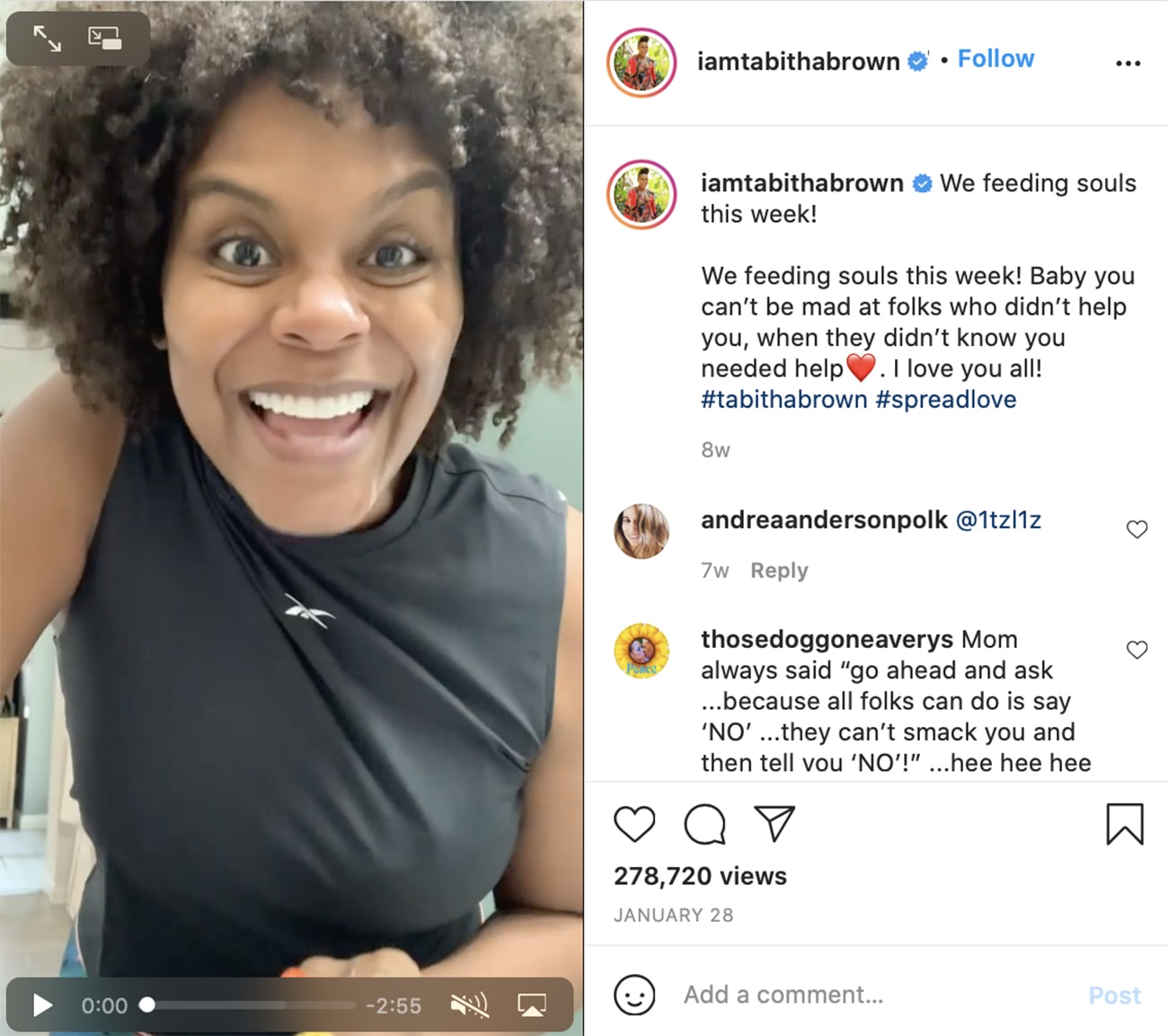 Her
Instagram
is filled with videos that start with her signature, "Hello there", welcoming her audience and instantly making them feel like they're part of the conversation. Her page is peppered with photos and videos of her family, workouts,
products
and causes she's passionate about. One of those key elements is
sustainable living
. "Sustainable living is important in so many ways," she says. "With us being mindful of our choices it helps us as humans, animals and the planet." Brown says she's taken specific steps to make a significant impact. "I'm plant based/vegan. I know that makes a huge difference in my personal life, but it also helps my imprint on the world. I try to drive a lot less than I used to and I switched all plastic to glass or stone in my home. We chose solar energy in our home. I read my labels to make sure ingredients don't play a role in harming our planet. And most importantly, I share with others what I'm doing! The more we know, the more we grow, together."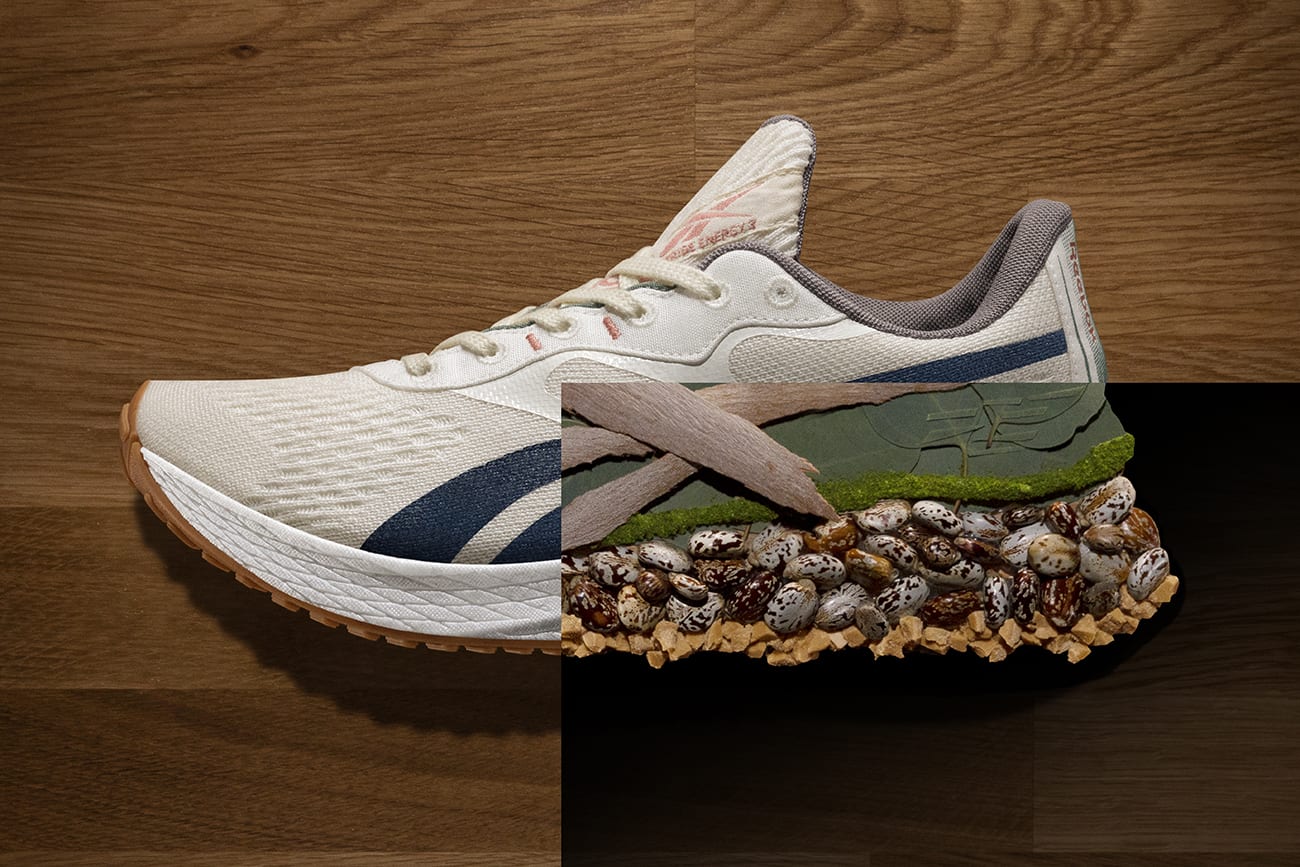 One thing that Brown knows is that a recipe is nothing without good plant-based ingredients. Reebok's
Forever Floatride GROW
running sneaker is made from the perfect blend of ingredients for people looking for a more sustainably-conscious shoe to add to their closet. Plus, it's made from things that actually grow. The sneaker, being re-released today, is made of at least 50% plant-based materials: castor beans, eucalyptus bark, natural rubber, and even bloom algae. Brown walked us through all the real benefits of the shoe's ingredients in the video below.
Brown says when she heard about the shoe, she knew it was a game changer. "My first thought was, 'The future is here! It's happening!' I was so excited. A company like Reebok can make a huge impact on others by using plant-based ingredients to make shoes! Then I thought, 'Dear God, please let them be comfy', and they are!"
If you've been focused on your wellness routine these last few months, this shoe doesn't compromise on performance either. When you hit the track or pavement, you'll have the lightweight cushioning and durability you need to go the distance.
Encouraging ourselves to do better during such a daunting time can be overwhelming, but Brown says you can always start simple and build from there. "For example, going plastic free as much as possible," she says. "Eat food in its natural state instead of buying packaged in plastic. Small changes make a huge difference. I think we are all waking up to the issues our planet has and together we will fix it!"
So, begin small to kickstart your path to a cleaner lifestyle. Check the materials your shoes are made of and say, "Hello there" to a more environmentally friendly shoe like the Forever Floatride GROW or simply reuse your grocery bags and start washing your clothes in cold water to save energy. There are easy things you can build into your routine. Brown reminds us that everyone has to start somewhere. "Don't be hard on yourself and remember that being interested in trying to be sustainable is already a win and a huge step in the right direction!" Someone like Brown who leads by example can embolden others to try a little harder, propelling us all into a healthier and more sustainable future.